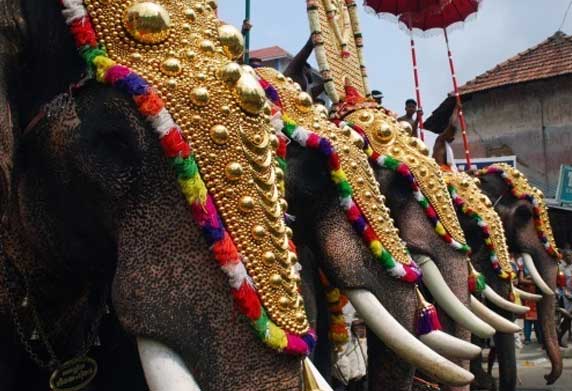 Thrissur Pooram was the brain child of Raja Rama Varma or famously known as Sakthan Thampuran, the Maharaja of Cochin (1790–1805). Before the start of Thrissur Pooram, the largest temple festival in Kerala was the one-day festival held at Aarattupuzha knows as Arattupuzha Pooram. Temples in and around City of Thrissur were regular participants. One day because of incessant rains, they were late for the Arattupuzha Pooram and were denied access to the Pooram procession. Felt embarrassed by the denial, the temples went to the Sakthan Thampuran and told their story.
So in 1798, he unified the 10 temples situated around Vadakkunnathan Temple and organised the celebration of Thrissur Pooram as a mass festival. He invited temples with their deities to City of Thrissur to pay obeisance to Lord Vadakkunnathan, the presiding deity of the Vadakkunnathan Temple. Sakthan Thampuran ordained these temples into two groups, namely "Paramekkavu side" and "Thiruvambady side". The Paramekkavu side consists of besides "Paramekkavu Bagavathy", 1) Pookattikkara-Karamukku Baghavathy, 2) Choorakattukara Baghavathy, 3)Chempukkavu Baghavathy, 4) Panemukkumpilly Sastha.
Besides Thiruvambady Baghavathy, the Thiruvambady side is having 1) Ayyanthole Baghavathy 2) Nethilakkavu Baghavathy 3) Laloor bagavathy 4) Kanimangalam Sastha. The Pooram was to be centered around the Vadakkunnathan Temple, with all these temples sending their Poorams (the whole procession), to pay obeisance to the Shiva, the presiding deity. The Thampuran is believed to have chalked out the program and the main events of the Thrissur Pooram festival.